Two teens charged in trans girl's murder
British social media personality Brianna Ghey was found stabbed to death in a park on Saturday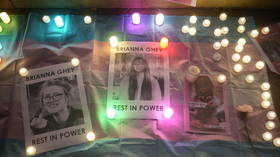 Two 15-year-olds, a boy and a girl, have been charged with the murder of Brianna Ghey, the 16-year-old British transgender girl who was found stabbed to death in Linear Park in Culcheth on Saturday. The Cheshire Constabulary announced the charges on Wednesday.
The youths were arrested on Sunday and remain anonymous, though the female suspect reportedly hails from Warrington and the male lives in Leigh. Police stressed that "there should be no reporting, commentary or sharing of information online which could in any way prejudice" the "fair trial" to which they are entitled.
While Detective Chief Superintendent Mike Evans told reporters on Sunday the attack on Ghey was "targeted" and that investigators were probing the hate crime angle, he clarified that "at this time there is no evidence to suggest that the circumstances surrounding Brianna's death are hate related." It is not known whether the two suspects were acquainted with Ghey.
Emergency services were summoned to Linear Park Saturday afternoon when passersby discovered Ghey's body bearing multiple stab wounds on a footpath in the former railway crossing. She was pronounced dead at the scene, police said.
The teen's murder has attracted international attention, with candlelight vigils held across the UK in the days following her death. Police have asked anyone with information, especially CCTV and dash cam footage from the area, to come forward.
Ghey posted dance and lip-syncing videos to her TikTok and Instagram, where she is said to have had thousands of followers. A parent of one of Ghey's classmates told the Daily Mail that the deceased was "bullied because of her sexuality" and "even talked of ending it all," explaining Ghey was "devastated by the constant abuse" and that her father had attempted to raise safety concerns with her school only to be rebuffed.
You can share this story on social media: