London vetoes Scotland's new transgender law
PM Rishi Sunak's government has vowed to stop Edinburgh's new gender recognition legislation from enactment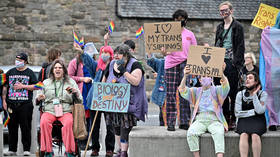 The UK government has taken an unprecedented step to intervene in Scottish legislation, for the first time using its veto powers to block implementation of a controversial new law that would make it easier for Scots to officially change their gender.
Scottish Secretary Alister Jack announced on Monday that the British government is invoking section 35 of the Scotland Act 1998 to stop enactment of the gender-identification bill that Scotland's parliament passed last month. Prime Minister Rishi Sunak's government has claimed that the separate Scottish legislation would create "significant complications" in enforcing protections provided under the UK's Equality Act.
The overlapping laws would allow for more "fraudulent or bad faith applications," Jack said in a letter to Scottish First Minister Nicola Sturgeon. "Transgender people who are going through the process to change their legal sex deserve our respect, support and understanding," he said. "My decision today is about the legislation's consequences for the operation of Great Britain-wide equalities protections and other reserved matters."
The Scottish government is expected to challenge the ruling, possibly through a judicial review, arguing that the Scottish bill wouldn't affect the operation of the UK Equality Act, the BBC reported.
Summary of my views on UK gov attempt to veto @ScotParl decisions - covers both the attempt to block this particular piece of legislation (passed by a substantial majority, inc MSPs from all parties) and the very significant wider issue of principle . https://t.co/1V5w55D5Sd

— Nicola Sturgeon (@NicolaSturgeon) January 16, 2023
Sturgeon called London's move a "political" decision and a "full frontal attack" on Scotland's parliament. Sunak's government is "using trans people, already one of the most vulnerable, stigmatized groups in our society, as a political weapon," she told reporters on Monday. Scottish Social Justice Secretary Shona Robinson said the "outrageous" ruling marks a "dark day for trans rights and a dark day for democracy in the UK."
Blocking the bill could help Sunak's Conservative Party win more votes in Scotland, given public opposition to the legislation. A December poll showed that about two-thirds of Scotts opposed the reforms.
The legislation would allow residents of Scotland to legally change their gender on official documents after just three months of living as their desired gender. No psychiatric diagnosis or other form of verification would be required, and the minimum age requirement to receive a gender recognition certificate would be cut to 16 from 18. Applicants also would be afforded a three-month "reflection period" after being approved, in case they decide to change back to their former gender.
You can share this story on social media: