Two EU countries broke 'boycott' of Iran – media
Hungary and Poland sent envoys to Islamic Revolution anniversary ceremonies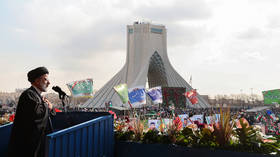 Budapest and Warsaw have violated the "informal understanding" among EU members to snub Iran over its treatment of anti-government protesters, according to Politico and Times of Israel. The two countries' ambassadors attended this week's ceremonies marking the 44th anniversary of the Islamic Revolution in Tehran.
Iran marked the anniversary on February 11, with rallies across the country. Tens of thousands gathered on Tehran's Azadi Square. Two days earlier, at a reception organized by President Ebrahim Raisi, Polish ambassador Maciej Falkowski and Hungary's Zoltan Varga-Haszonits were photographed sitting behind Iranian Foreign Minister Hossein Amir-Abdollahian.
In one of the photographs published by Iranian media, Falkowski is "shaking Raisi's hand with a slight bow," Politico Europe reported. While there is no official EU requirement to boycott Iran, the bloc has "an informal understanding to act in concert with symbolic steps" such as attending ceremonies, said the publication.
Iranian media also said Tehran had received congratulations from Bulgaria, Romania and Croatia, who are also EU members.
Both Politico and Times of Israel objected to the presence of the Polish diplomat in particular, pointing out that Warsaw is an outspoken champion of Ukraine – and repeating the accusations about Iran supplying Russia with drones. Tehran has denied these claims and warned Kiev its "strategic patience will not be unlimited towards unfounded accusations."
Politico also made sure to point out that Warsaw's envoy was attending a ceremony celebrating the hostage-taking of 50 American diplomats, which risked offending "its most important ally — the United States." The outlet is owned by the German consortium Axel Springer, which has an official policy of favoring Israel, NATO, and European unity.
February 11 marked the day when the Iranian monarchy was officially abolished, ten days after Ayatollah Ruhollah Khomeini returned from exile in France. The US-backed Shah Reza Pahlavi had left the country weeks earlier. The US has sought "regime change" in Tehran ever since.
You can share this story on social media: