New EU sanctions on Russia to span from tech to toilets – media
The next round of trade restrictions still needs the approval of all member states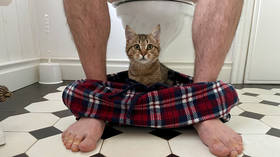 The tenth package of EU sanctions on Russia will focus on stopping sales of high-tech goods that can be used in weapons systems, the newspaper EUobserver reported on Thursday, citing draft proposals.
The 146-page-long export blacklist will reportedly include electronics, lasers, radio equipment, software, avionics, marine cameras and rare-earth minerals, as well as other more specific components used in nanotechnology.
However, the newspaper notes that the package will also cover more "symbolic items" of everyday use. Among them are "bidets, toilets, flushing cisterns and similar sanitary ware," as well as LEDs, hemp yarn, mail-sorting machines, clay pots, bricks, tires and even pen tips.
However, EU ambassadors failed to reach an agreement on the package on Wednesday, with the media reporting that the issue of synthetic rubber, which is used in tires, has emerged as a stumbling block. Italy and Germany were said to be skeptical about banning Russian supplies, which delivered nearly $700 million worth of the product to the EU in 2021.
The support of all the 27 member states is needed for the package to be passed. However, EU leaders have lately been complaining that coming up with new sanctions is becoming more difficult as targets become increasingly scarce. Nevertheless, Brussels reportedly hopes to finalize the package before February 24, the anniversary of the launch of Russia's military operation in Ukraine.
Earlier reports indicated that the next sanctions package would target three more Russian banks, ban Russian residents from holding top posts at critical European infrastructure companies and restrict the provision of gas storage capacity to Russian entities. It is also expected to include a requirement for European banks to report on frozen funds that belong to Russia's central bank and those linked to sanctioned Russian companies and individuals.
For more stories on economy & finance visit RT's business section
You can share this story on social media: