Trump celebrates resignation of 'failed woke extremist'
The former US president's grudge against Scotland's Nicola Sturgeon stems from her opposition to his golf courses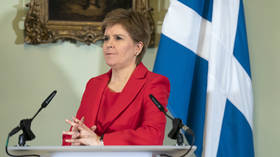 Former US President Donald Trump tore into outgoing Scottish First Minister Nicola Sturgeon after she announced her resignation on Wednesday, describing Edinburgh's longest-serving leader as a "crazed leftist" who "symbolizes everything wrong with identity politics" in a statement.
"Good riddance to failed woke extremist Nicola Sturgeon of Scotland!" Trump wrote on his social media platform Truth Social, insisting "the wonderful people of Scotland are much better off without Sturgeon in office!"
Scotland's first female leader "thought it was OK to put a biological man in a woman's prison, and if that wasn't bad enough, Sturgeon fought for a 'Gender Recognition Reform Bill' that would have allowed 16-year-old children to change their gender without medical advice," the 2024 presidential hopeful said.
"I built the greatest Golf properties in the World in Scotland, but she fought me all the way, making my job much more difficult," Trump continued. His Trump Turnberry and Menie Estate golf courses lost a total of £4.4 million ($5.44 million) in 2021, according to accounting figures released earlier this month. His son Eric Trump cited price increases, supply chain disruptions and Brexit in a report accompanying the dismal numbers.
Sturgeon stepped down during a press conference at Bute House on Wednesday, promising to remain in office while the national secretary of her Scottish National Party finds a successor. Insisting the move was not "a reaction to short-term pressures," Sturgeon said she was only "very recently" coming to terms with the "physical and mental impact" of her lengthy tenure.
After the controversial gender-identification legislation she championed was blocked by UK Prime Minister Rishi Sunak's government last month, Sturgeon warned that such intervention proved London's contempt for Scotland's democratic process and set a foot down a "very slippery slope" from devolution of powers to direct rule.
Sturgeon's hopes for a second referendum on Scottish independence to be held this year were dashed when the UK Supreme Court ruled the matter could not proceed without Westminster's approval, and the first minister herself has seen her popularity crater, with 42% of respondents to a recent poll suggesting she resign immediately.
You can share this story on social media: