Germany must investigate pipeline sabotage claims – MP
Lawmaker Sevim Dagdelen made her appeal after allegations that the US was behind the Nord Stream blasts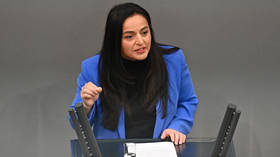 Berlin must not obstruct the creation of an international inquiry into the explosions on the Nord Stream gas pipelines, Sevim Dagdelen, a German MP from the Left Party (Die Linke), said on Tuesday.
Dagdelen's appeal came after Pulitzer Prize-winning journalist Seymour Hersh claimed that the US and Norway were behind the September 2022 blasts on the Baltic Sea pipelines, which were built to transport gas from Russia to Germany.
"It appears that the federal government… has neither the strength nor the will to properly investigate these terrorist acts," Dagdelen said. The lawmaker urged the authorities to "find the strongest possible response to a terrorist attack on German and European infrastructure."
Dagdelen argued it was the duty of Chancellor Olaf Scholz to ensure a full investigation into the explosions on the pipelines, which were vital to the country's energy supply.
The MP warned it has become "obvious to an increasing number of people in Germany" that foreign policy should not lead to "entering into serfdom [to] the US."
"I call upon… the federal government to at least refrain from preventing the creation of an international investigative commission, ideally under the aegis of the United Nations," Dagdelen said.
The office of the Public Prosecutor General, which is conducting Germany's official probe into the incident, has yet to release any results. Peter Frank, the country's top prosecutor, said this month that there was no evidence that Moscow was involved in the attack.
The US had long opposed the construction of Nord Stream 2, and blacklisted companies working on the project. Nonetheless, Washington rejected Hersh's report as "utterly false."
Russia has called for an international probe into the sabotage, and requested the UN Security Council to convene later this month to discuss the matter.
A spokesman for UN Secretary General Antonio Guterres stated this week that the organization has no mandate to initiate the investigation. In response, Russian Foreign Minister Sergey Lavrov insisted that Moscow would continue to seek an appropriate format for the probe.
You can share this story on social media: