New 'meteor blast' on anniversary of Chelyabinsk incident
Local residents have reported a "fireball in the sky" in southern Texas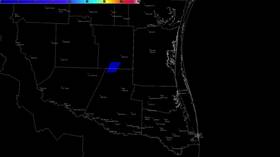 A suspected meteor was seen blazing through the sky over Texas on Wednesday night, according to a local sheriff, who cited air traffic controllers in the area. The US National Weather Service confirmed that it detected a bright "flash" in the atmosphere, almost exactly ten years after a massive meteor came down in Chelyabinsk, Russia.
Hidalgo County Sheriff Eddie Guerra took to social media to relay the reports from the aviation authorities in Houston, saying more than one aircraft had spotted a meteor near McAllen, a border town in southern Texas.
"Was informed by my federal partners that Houston Air Traffic Control received reports from two aircrafts that they saw a meteorite west of McAllen. Where the exact point of impact is unknown," the sheriff said, adding that there had been no reports of damage in the area.
The chief of police in nearby Alton, Jonathan Flores, told local media that he felt a "blast" on Wednesday night, but could not pinpoint its origin.
"I do know that it was widespread. There are multiple cities receiving the same call," he said.
Law enforcement in another neighboring town, Mission, said they had received hundreds of similar reports from residents who "heard the earth shake," with Police Chief Cesar Torres noting that the department requested "air support" from the Texas Department of Public Safety. There have so far been no reports of damage or injuries in the town.
The National Weather Service branch for Brownsville and Rio Grande Valley, Texas later shared imagery captured by its Geostationary Lightning Mapper, saying it had "received reports of a possible meteor/fireball in the sky earlier this evening west of McAllen." It explained that the images show there was a "flash in the atmosphere" bright enough to be seen by satellites in orbit sometime around 5:30pm local time.
The suspected meteor sighting comes exactly ten years to the day after a massive fireball was seen over Chelyabinsk, Russia in 2013. That incident was caused by an asteroid around 59 feet (18 meters) in diameter and weighing in at 10,000 tons, which exploded in the atmosphere and produced a significant shock wave. The blast and falling debris left nearly 1,500 people injured and damaged thousands of buildings, though resulted in no deaths.
You can share this story on social media: