Judge sentences US mass shooter
The teen who killed ten people at a New York supermarket has been ordered to serve life in prison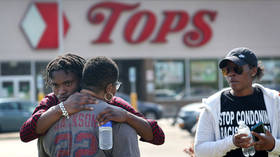 The New York teenager who gunned down ten people and wounded three others at a Buffalo supermarket last May was sentenced on Wednesday to 11 life sentences without the possibility of parole.
Judge Susan Eagan handed down the sentences against mass shooter Payton Gendron in Erie County District Court. He was also sentenced to a combined 90 years in prison on three counts of attempted murder and illegal possession of a weapon.
Gendron pleaded guilty to all of the charges, including domestic terrorism motivated by hate and ten counts of murder, last November. He admitted to killing his victims because they were black.
"There can be no mercy for you, no understanding, no second chances," Eagan told Gendron. "The damage you have caused is too great, and the people you have hurt are too valuable to this community. You will never see the light of day as a free man ever again."
Gendron, then 18, traveled to the Tops Friendly Market in a predominantly black area of Buffalo from his home in rural Conklin, New York, over 200 miles away. He reportedly planned to commit more murders if he escaped the supermarket. Eagan said he didn't qualify for youthful offender status, which could have allowed for more lenient sentencing, because his shooting spree was methodically planned and executed, rather than being a hasty and thoughtless act.
Wednesday's tense sentencing hearing featured statements by relatives of Gendron's victims. At one point, a man charged toward the defendant and lunged at him before being restrained by security officers.
Gendron apologized during the hearing, saying, "I'm very sorry for stealing the lives of your loved ones." Prosecutor John Flynn said he believed the teen expressed remorse to avoid being sentenced to death in the federal case against him. He still faces 27 federal counts, including ten hate crimes leading to death.
You can share this story on social media: