Biden sibling denies Saudi deal link
A 2021 affidavit alleges that Jim Biden admitted to being hired to negotiate a $140 million settlement with Riyadh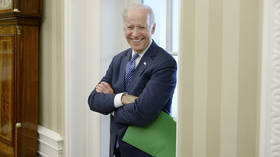 Jim Biden, the brother of US President Joe Biden, has denied he was hired to help negotiate a $140 million settlement between a US construction firm and the Saudi government after a sworn affidavit surfaced on Tuesday claiming he admitted he was given the position because of his family name.
Former US Treasury official turned private investigator Thomas Sullivan claimed in a sworn affidavit that Jim Biden confessed he was appointed to represent construction firm Hill International in settlement negotiations with Riyadh in 2012 because of his family ties with the then-vice president. "Of course, the [Biden] name didn't hurt," the politician's brother told Sullivan, according to the affidavit, the contents of which were made public by the Daily Mail on Tuesday.
A representative for Jim Biden has categorically refuted Sullivan's sworn statement, however, telling the New York Post on Wednesday, "Mr. Biden never negotiated with the Saudi Government on behalf of Hill or any other entity."
"The entire story is yet another attempt to smear Jim Biden," he said.
The May 2021 affidavit was filed regarding a dispute with a law firm that Hill had hired in an attempt to reclaim $140 million allegedly owed by the Saudis for a desalinization plant that Hill built in the 1980s. Asked specifically about whether he had attended a meeting with the Saudi Ministry of Trade "to receive the final payment for the work Hill had performed," Biden allegedly told Sullivan that "to the best of his memory, he had been at such a meeting, and that the reason he attended was 'because of his position and relationship' with his brother."
In a May 2022 affidavit, partner V. Thomas Lankford of the law firm Lankford & Reed confirmed that "Hill, acting through [its CEO Irvin] Richter, sent Jim Biden" to the 2012 meeting in Riyadh "because KSA [the Kingdom of Saudi Arabia] would not dare stiff the brother of the Vice President who would be instrumental to the deal."
House Committee on Oversight and Accountability Chair James Comer (R-Kentucky) cited the affidavits as "evidence…the Biden family used Joe Biden's name to secure deals around the world to enrich themselves," calling the deals "a national security threat."
The president has denied any knowledge of his family's foreign business dealings, despite emails and other evidence found on his son Hunter Biden's "laptop from hell" suggesting he met with no fewer than 14 of his son's business associates.
You can share this story on social media: