US Republicans moving forward with Biden probes
The US House investigations into Biden family "influence peddling" are not political, Rep. James Comer said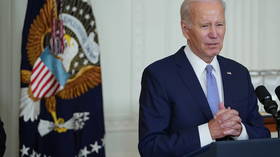 Having assumed control of the US House of Representatives, Republicans are pushing forward with probes into President Joe Biden and his family's business dealings in Ukraine and China, the incoming chair of the House Oversight Committee has said. Big Tech 'censorship' of the Hunter Biden laptop story will also be under the spotlight.
Rep. James Comer told NBC News' 'Meet the Press' on Sunday that the chamber, now controlled by Republicans, will thoroughly examine the Biden family's "influence peddling" and "shady business dealings" abroad.
"We're not investigating Hunter Biden, we're investigating Joe Biden," the Kentucky lawmaker insisted, adding that Americans "need to know what is allowable and what isn't allowable with respect to foreign adversarial intervention among family members of presidents of the United States."
Comer argued that the only people who see the investigations as partisan are "the media and the hardcore Democrats."
House Judiciary Chairman Jim Jordan will also chair a new Subcommittee on the Weaponization of the Federal Government, which would look at the role government agencies like the DOJ and FBI played in suppressing reporting on the Hunter Biden story.
The New York Post's reporting on Biden junior's mislaid laptop – which revealed information about his business relationships in China and Ukraine – was heavily censored on social media ahead of the 2020 presidential election.
Files released by new Twitter CEO Elon Musk in December appeared to confirm that FBI officials pressured the platform's staff to classify the story as a foreign-influence operation.
In an interview with Fox News Sunday, Jordan promised to investigate "vigorously" and "aggressively" to expose "every single bit of it." The Ohio Republican previously requested information from Big Tech companies on their alleged "collusion with the Biden administration to censor conservatives."
The probe will also look for any evidence of government pressure to quash debate on controversial issues like the response to the Covid-19 pandemic.
Republican sources told Axios that the new committee will demand copies of White House emails, memos and other communications with Big Tech platforms.
The White House has dismissed the probes as "pointless political stunts," and accused the GOP of failing to work with the administration "to take on the issues Americans care about like tackling inflation."
You can share this story on social media: