New US House chief makes pledge on Ukraine aid – media
Kevin McCarthy has reportedly agreed to cap aid to Kiev to win support from colleagues who were blocking his election as speaker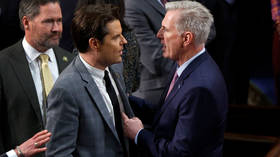 Newly elected US House Speaker Kevin McCarthy reportedly won over the final few votes needed to secure the gavel by promising conservative lawmakers that he will help pass legislation that would limit future economic and military aid to Ukraine.
The Kiev compromise was one of the key concessions that McCarthy, a California Republican, accepted to win over recalcitrant colleagues who had opposed his election as speaker, the UK's Telegraph newspaper reported on Saturday. Republicans won back control of Congress in November's midterm elections, but it took five days and 15 rounds of voting for speaker – the most since 1860 – to reach enough consensus on who will shepherd the party's legislative agenda.
Since Russia began its military offensive against Ukraine last February, Congress has approved $100 billion in US aid to Ukraine – much to the chagrin of 'Freedom Caucus' lawmakers, such as Republicans Matt Gaetz (Florida) and Lauren Boebert (Colorado). Gaetz led a group of about 20 representatives in opposing McCarthy's election, at one point nominating former President Donald Trump for the job.
After McCarthy failed to win enough support from fellow Republicans in the first three rounds of voting on Tuesday, Gaetz said, "Today the House didn't organize. Biggest loser: [Ukrainian President Vladimir] Zelensky. Biggest winner: US Taxpayers." He had opposed previous aid requests for Kiev, including a $45-billion package approved last month, saying, "Hemorrhaging billions in taxpayer dollars for Ukraine while our country is in crisis is the definition of America last."
McCarthy, who occasionally wears a Ukrainian flag pin on his lapel, also agreed to congressional rule changes, limits on defense spending and the creation of a committee to investigate "weaponization" of the federal government. In addition, conservatives won a pledge to allow votes on several of their top issues, including border security, congressional term limits and a balanced budget amendment. The new speaker agreed to give Freedom Caucus members key seats on House committees.
Among those panels is the House Rules Committee. As the Telegraph noted, giving Freedom Caucus members leadership roles on the Rules Committee could create "immense hurdles" to passage of additional aid packages for Ukraine.
You can share this story on social media: