Berlusconi acquitted in 'bunga bunga' trial
Italy's former prime minister has now avoided conviction in three out of three corruption cases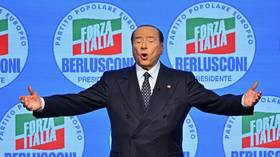 A court in Milan has acquitted former Italian Prime Minister Silvio Berlusconi of bribing witnesses into making false statements about his infamous "bunga bunga parties."
Wednesday's verdict is the latest twist in a long-running legal saga known as the 'Ruby' scandal, after the stage name of a Moroccan stripper and alleged prostitute, whose services Berlusconi was accused of procuring in 2010. Ruby the Heartstealer, whose real name is Karima El Mahroug, was 17 at the time.
Berlusconi was accused of paying 24 guests at his gatherings – including models and showgirls – to give false testimony in a 2014 trial in which he was accused of paying El Mahroug for sex. Berlusconi was acquitted, but prosecutors alleged that the former PM bought the witnesses' silence with around 10 million euros ($11 million) worth of cash, cars, and luxury gifts.
With the 24 witnesses spread out across Italy, three separate cases were heard in Siena, Rome, and Milan. Berlusconi was acquitted in the Siena and Rome cases last year, and the closure of the Milan case now brings the 'Ruby' saga to a close, although prosecutors have appealed the acquittal.
Berlusconi previously admitted to handing out lavish gifts to his female guests, but insisted that these gifts were not bribes. He has described the parties held at his residences in Milan and Sardinia as "elegant dinners," although the gatherings were described in the Italian media and by prosecutors as bacchanalian orgies.
Deputy Prime Minister Matteo Salvini, who along with Berlusconi is a member of Prime Minister Giorgia Meloni's ruling coalition, said that he was "Happy for Silvio's acquittal after years of suffering, insults and useless controversies."
Berlusconi served as Italy's prime minister from 1994 to 1995, 2001 to 2006, and 2008 to 2011. He has been on trial more than 30 times for crimes ranging from abuse of office, defamation, association with the mafia, and tax fraud. However, prosecutors only managed to convict him on a single count of tax evasion in 2013, and his four year prison sentence was reduced to community service.
The 86-year-old has since mounted a political comeback, and was elected to Italy's upper house in November. Although Berlusconi and his Forza Italia party are members of Meloni's ruling alliance, he is an outspoken critic of Meloni's policy on the conflict in Ukraine, blaming hostilities on President Vladimir Zelensky.
You can share this story on social media: