Scottish first minister resigns
Nicola Sturgeon made the announcement during a press conference in Edinburgh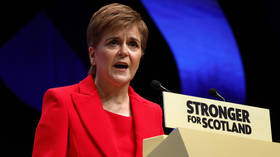 Nicola Sturgeon has announced her resignation as Scotland's first minister. The politician, who has held the position since 2014, made public the decision to step down during a press conference at her official residence, Bute House in Edinburgh, on Wednesday.
"Today I am announcing my intention to step down as first minister and leader of my party," Sturgeon said, adding that she will be acting in a caretaker capacity until a new leader is nominated by the Scottish parliament and approved by King Charles III.
Describing her time in office, Sturgeon said her role was the "very best job in the world" and something that had sustained her through the "toughest hours in toughest days." She said that it is important for a politician to know "almost instinctively when the time is right to make way for someone else."
"My decision comes from a place of duty and love," the outgoing first minister explained, insisting that it was not the result of "short term pressures," but rather a "deeper and longer term assessment."
The politician noted that while she could go on, this would not be "right for the country, for my party and for the independence cause."
Speaking of her successor, Sturgeon expressed confidence that the person "will lead Scotland to independence."
Earlier, a source close to Sturgeon told the BBC that she had "had enough."
As recently as last weekend, the Sunday Times cited an opinion poll as finding that four in ten Scots believed the incumbent first minister had to step down.
Sturgeon's attempts to push through gender recognition reform is the main source of public dissatisfaction, the paper claimed.
Last month, the UK government intervened to block the controversial piece of legislation that sought to make it easier for Scots to change their gender on official documents.
The bill would allow people to do so after just three months of living as their desired gender. Anyone over 16 seeking gender reassignment would not require a psychiatric diagnosis or any other form of verification.
Opponents argued that if implemented, the new rules would put women in female prisons, hospitals, and other facilities at significant risk of sexual harassment and violence.
Sturgeon, who came to power following Scotland's independence referendum back in 2014, had firmly stood by her plans.
You can share this story on social media: