India reacts after temple vandalized in Canada
The shrine's wall was spraypainted with insults directed at Prime Minister Narendra Modi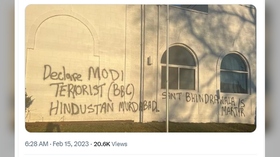 Indian diplomats have condemned the defacing of a Hindu temple in Ontario, Canada with political slogans. It was the second such incident in the Canadian province in little more than two weeks.
Vandals defaced the wall of the Ram Mandir temple in the city of Mississauga with slogans directed at Indian Prime Minister Narendra Modi. India's consulate in Toronto called on the Canadian authorities to "take prompt action on perpetrators."
Mississauga Mayor Bonnie Crombie tweeted that she was "angered by the hateful and divisive graffiti," and that the police were investigating the vandalism. "These blatant attacks are not reflective of our city and region's diversity and will not be tolerated," she said.
In late January, graffiti was discovered on a wall of a Hindu temple in Brampton. According to local media, the slogans were linked to the Sikh secessionist movement in India's Punjab state. The graffiti caused outrage, with Chandra Arya, a member of Canada's parliament of Indian origin, urging the government at the time to "start taking this seriously."
Another temple was attacked in Ontario in September, and a statue of Mahatma Gandhi was defaced in the province in July.
In September, the Canadian Sikh community organized an unofficial referendum in Brampton on the question of whether Punjab should become "an independent country." A similar vote took place in Mississauga in November. Canada is home to one of the largest Sikh diasporas in the world.
India has condemned the vote held by the "anti-Indian elements." Indian Foreign Ministry spokesman Arindam Bagchi said in November that Canada had assured New Delhi that it would respect its sovereignty and not recognize the Sikh referendums.
You can share this story on social media: