Two EU states refuse to send Leopard 2 tanks to Kiev – media
The Netherlands and Denmark agreed to transfer older versions of the vehicle to Ukraine, Die Welt reports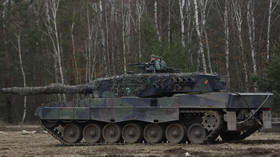 The Netherlands and Denmark will not send their German-made Leopard 2 main battle tanks to Ukraine, Die Welt newspaper reported on Tuesday, citing government officials in both countries.
The news comes as Kiev's backers have tried to form a 'Leopard coalition' of countries that would supply Ukraine with enough tanks to fight Russia.
Dutch Prime Minister Mark Rutte said last month his government was considering purchasing the 18 Leopard 2s that have been leased from Germany and transferring them to Ukraine. However, that option has now been scrapped, according to Die Welt.
"The decision was made in close coordination between the Netherlands and Germany," Dutch officials were quoted as saying.
Denmark and the Netherlands previously agreed to fund the refurbishment of Leopard 1A5 tanks from German stocks that would be donated to Ukraine. The Leopard 1A5 is an older model and the predecessor of the Leopard 2.
Finland, meanwhile, has 200 Leopard 2s, but hammering out the specifics of Helsinki's participation in the coalition is "still an ongoing process," Die Welt quoted the government spokesman as saying. The Wall Street Journal cited a senior NATO official this month who said that Finland would likely transfer the tanks only after it officially joins the alliance.
Speaking at a summit of Ukraine's supporters in Brussels on Tuesday, US Secretary of Defense Lloyd Austin said that "a consortium" of states, including Canada, Germany, Spain, Portugal, Norway, Denmark, the Netherlands, and Poland, were working to supply Kiev with the Leopards. However, German Defense Minister Boris Pistorius acknowledged the same day that the coalition was not moving "so astonishingly, to put it mildly."
Russia launched its military operation in Ukraine nearly a year ago, citing the need to protect the people of Donbass and Kiev's failure to implement the 2014-15 Minsk peace accords. Moscow has warned that foreign arms would not change the course of the conflict and that Western tanks would "burn" on the battlefield.
Kremlin spokesman Dmitry Peskov said on Tuesday that NATO's close involvement in the conflict has been becoming more obvious, with a slew of new pledges of military aid to Ukraine.
You can share this story on social media: