Türkiye has message for other nations
President Recep Tayyip Erdogan has thanked the countries that provided assistance after two terrible earthquakes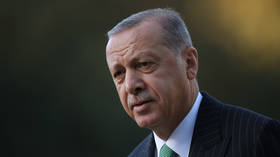 The assistance Türkiye has received from the global community following devastating earthquakes once again proves how important international solidarity is, Turkish President Recep Tayyip Erdogan has said. He was addressing the participants of the World Government Summit in a video message on Tuesday.
The president stressed his country "will not forget the helping hand extended in difficult times," as he thanked all of those who assisted in relief efforts after Türkiye was rocked by the disaster last week.
"Some states sent rescuers to Türkiye, some showed solidarity by initiating campaigns to collect aid. Some states have issued statements of support for Ankara," noted Erdogan.
A magnitude 7.7 earthquake struck the province of Gaziantep in southeastern Türkiye on the morning of February 6, followed hours later by a magnitude 7.6 quake in nearby Kahramanmaras Province. The earthquakes wrought unbelievable destruction across nine Turkish provinces and in neighboring northern Syria. Relief efforts are still ongoing, with rescuers from around the globe flying in to help.
Erdogan said that a total of 13.5 million people in Türkiye have been affected by the earthquakes, which scientists have compared to the explosion of 500 atomic bombs. According to the president, that makes them not only one of the largest natural disasters ever in the country, but also in all of recorded history.
Turkish officials have yet to reach a final estimate of how many people lost their lives in the disaster, but the latest figures suggest that over 33,000 people were killed.
However, Erdogan stated that a large number of the 81,000 people who were injured in the catastrophe have already been discharged from hospitals. He also said that some 8,000 people have been rescued from under collapsed buildings.
Meanwhile, the economic toll of the earthquakes has been estimated at a staggering $84 billion in Türkiye alone – over a tenth of the country's GDP, according to a business group cited by Bloomberg.
You can share this story on social media: