Two more trains derail in US
The back-to-back accidents come days after another freighter carrying hazardous chemicals derailed in Ohio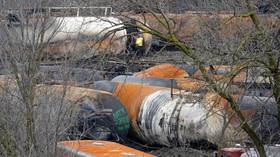 One man was killed following a collision with an oncoming train in southeastern Texas, causing more than a dozen cars to derail in one of two similar accidents on Monday. Another incident in South Carolina saw three cars come off the tracks.
The crash occurred in Splendora, Texas early Monday morning, according to the East Montgomery County Fire Department. While the authorities do not know how the collision with the 18-wheeler truck took place, local media have identified the victim as Michael Floran, 57.
"When the train impacted the cab it drug the trailer, cab, and everything all down the tracks about a half mile down the tracks," Splendora Police Chief Wally Wieghat said. "The 18-wheeler was totally destroyed. It's just pieces of it scattered up and down the railroad track."
At least 21 cars operated by Union Pacific were derailed in the incident, leaving a portion of the tracks destroyed. Some of the cars were carrying household chemicals and a hazmat team has been called in to ensure there is no threat to emergency workers, police spokesman James Teller told a local news outlet.
Footage of the scene was captured by local media, showing a pile-up of railcars as well as a fleet of police vehicles and fire trucks.
Enoree, South Carolina also saw a derailment on Monday, with at least three cars coming off the tracks. No injuries were reported in the incident, however, and all of the cars were said to remain upright, with "no leaks or spills of any kind," according to a reporter with a local NBC affiliate. Workers from CSX rail are nonetheless on the scene to inspect the railcars.
The accidents follow a major derailment involving trains carrying hazardous chemicals in the town of East Palestine, Ohio on February 3. Hundreds of people were forced to evacuate the area for several days as clean-up crews worked to decontaminate the site, with environmental officials saying they could not detect any toxic substances in the area as of Sunday.
You can share this story on social media: