Australia accused of holding ex-US marine in 'inhumane conditions'
Daniel Duggan, now an Australian citizen, has allegedly been held by Canberra for 115 days without conviction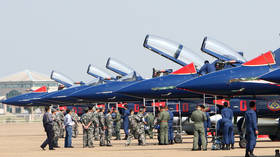 The family of detained Australian citizen and former US marine Daniel Duggan plans to petition the UN Human Rights Committee to intervene to stop his "inhumane treatment," his wife, Saffrine Duggan, said in a statement on Sunday, calling the imprisonment of her fighter pilot husband an "affront to Australia's rule of law."
"The father of six children has been held in a tiny cell in Sydney under extreme conditions without any conviction for 115 days, based on unproven charges from the United States," she said, adding that he is classified as an "extreme high risk restricted inmate" at the Silverware Correctional Complex despite having no criminal history. The cell measures just two by four meters, she said.
Duggan was arrested in October and accused of training Chinese military pilots to land on aircraft carriers, evaluating Chinese military pilot trainees, and providing aviation services in China, all without the required authorization from the US State Department. He is alleged to have received at least A$116,000 ($81,000) in 2011 and 2012 for the training work, which took place at a flight academy in South Africa, during a period when he was still an American citizen, according to a 2017 indictment unsealed in the US in December.
He relinquished his US citizenship in 2012 and became a naturalized Australian citizen.
Canberra approved a US extradition request for Duggan in December. He faces another hearing next month on whether he can be extradited. Duggan maintains his innocence of all charges.
Saffrine Duggan previously filed a complaint with the Australian Inspector-General of Intelligence and Security. Her husband's lawyer, Dennis Miralis, lamented last week that both the Australian and US governments have been reluctant to hand over documents relevant to the case "on the basis of secrecy provisions," hinting that Duggan might have to launch separate legal proceedings himself.
"Dan strenuously rejects all charges against him as being of a political character and politically motivated," his wife said in her statement. "His indictment contains half-truths, falsehoods and gross embellishments."
Australia's extradition treaty with the US prohibits extradition if the charges are of a "political character" and requires that the offense in question be a crime in both countries.
You can share this story on social media: