Anti-Semitism rising in US – survey
The American Jewish Committee wants the government to do something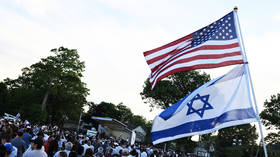 The number of Jews who say they feel less safe in the US rose by ten percentage points in a year, one of the oldest Jewish advocacy groups in the US said on Monday. The American Jewish Committee (AJC) is calling on the White House to do more against "Jew-hatred."
According to AJC's annual anti-Semitism survey for 2022, 41% of American Jews feel less secure, compared to 31% in 2021. One in four reported being "personally targeted" by anti-Semitism, a number that has remained constant since 2019.
"No Jew in the United States, especially the younger generation, should ever feel unsafe for expressing their Jewish identity. Yet rising antisemitism is having a deeply disturbing effect on American Jews and American society in general," AJC executive Ted Deutch said in a statement. "We look forward to working with the White House in developing effective strategies for a whole-of-government approach to combat Jew-hatred once and for all."
In December, President Joe Biden's administration announced a new interagency group that would develop a national strategy to combat anti-Semitism.
The AJC survey was conducted between September and November, on a sample of 1,507 Jewish adults. A parallel survey in October polled a sample of 1,004 non-Jewish US adults.
Among the findings was that 69% of American Jews had experienced anti-Semitism online over the past 12 months. While 14% of older Jews said this made them physically unsafe, that rose to 26% among the younger Jews.
Almost 40% of all Jews said they had altered their behavior at least once due to fears of anti-Semitism. Of those, 27% said they avoided posting content online that would identify them as Jewish, 23% avoided wearing or displaying items that would identify them, and 16% avoided "certain places, events, or situations" due to safety concerns.
A third of the general US population believes anti-Semitism is taken less seriously than other forms of bigotry, compared to 48% of Jews. Holly Huffnagle, AJC's director of combating anti-Semitism, called it a "welcomed surprise" for "many in the Jewish community" that rapper Kanye West's remarks had been taken seriously by the general public.
Founded in 1906, the AJC has released its annual anti-Semitism report since 2019. The annual survey is conducted by the market research company SSRS.
You can share this story on social media: