Anti-Semitic flyers found in Atlanta suburbs
Officials are checking security cameras, a local mayor has said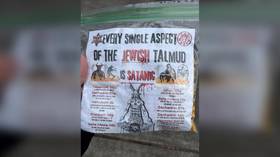 Anti-Semitic flyers were found scattered in driveways across the suburbs of the US city of Atlanta, Georgia on Sunday morning. They were discovered in Sandy Springs and Dunwoody, which are home to many Jewish residents, local officials say.
Dunwoody Police Chief Billy Grogan said the force is "actively investigating" the incident in coordination with the Sandy Springs Police Department.
Dunwoody Mayor Lynn Deutsch shared a photo of a flyer that claims the Jewish Talmud is "Satanic." "The purpose of activities like this is to cause fear and to divide us," the mayor wrote on Facebook.
Sandy Springs Mayor Rusty Paul said officials were checking security cameras. "If legal charges are possible, they will be brought," he said.
"This kind of hate has no place in our state and the individuals responsible do not share Georgia's values," Governor Brian Kemp tweeted on Sunday.
The US has seen an upswing in anti-Semitic crimes in recent years. The Anti-Defamation League (ADL) recorded 2,717 incidents targeting Jews in 2021 – the highest number since the group began keeping track in 1979.
In November, hundreds of anti-Semitic flyers were found in driveways and mailboxes across Cobb County, Georgia, according to WSB-TV.
You can share this story on social media: