Jesus ads promote 'fascism' – Democrat
Congresswoman AOC slams Super Bowl commercials for social justice Christianity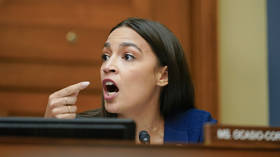 Two commercials that played during Sunday's American football Super Bowl presented Jesus Christ as a persecuted migrant and a champion of diversity. Congresswoman Alexandria Ocasio-Cortez argued they promoted "fascism."
"Something tells me Jesus would not spend millions of dollars on Super Bowl ads to make fascism look benign," the New York Democrat tweeted on Sunday evening.
The two commercials were titled 'Refugee' and 'Love Your Enemies', and were commissioned by 'He Gets Us', at a reported cost of $20 million. One uses the footage of migrants from Latin America to compare them to the Christian savior, while the other admonishes Christians that he "loved the people we hate."
Ocasio-Cortez, a self-declared democratic socialist, declared this to be "fascism" after a series of media stories denouncing the group behind the ads – the Servant Foundation, also known as The Signatry. Last week, the socialist outlet Jacobin called them "the far right" and a "rabidly anti-abortion and anti-gay" organization funding a "hate group" called Alliance Defending Freedom.
Jacobin's claims were then amplified by other outlets, with headlines such as "The truth behind the 'He Gets Us' ads for Jesus airing during the Super Bowl" (CNN). The CNN story, which appeared just hours before the game – and AOC's tweet – explains that He Gets Us has "theological ties to evangelical practices as well as financial ones," and that evangelical Christianity "is closely tied to conservatism."
He Gets Us says it is not a political organization, or "affiliated with any particular church or denomination." It does tell potential partners that it recognizes the 1974 Lausanne Covenant as "reflective of the spirit and intent of this movement" and that its partner churches "affirm" it. The Lausanne movement was launched by evangelical preacher Billy Graham.
"The Jesusy 'He Gets Us' campaign is a truly toxic far-right effort – anti-LGBTQ, anti-abortion, etc. Ignore the gauzy social justice dressing," liberal journalist Virginia Heffernan tweeted on Sunday evening, urging her followers to spread the word and make sure the $100 million invested in the campaign is "wasted."
The Super Bowl is the top sporting event in the US and commands the most expensive advertising rates. The commercials and the halftime show are usually the topic of conversation afterward as much as the game itself.
You can share this story on social media: