German chancellor's party suffers major defeat
The Social Democrats slumped to a resounding loss at the hands of the Christian Democratic Union in Berlin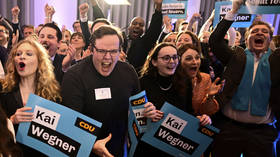 Germany's ruling Social Democratic Party (SPD) has lost the election to the Berlin city parliament for the first time in nearly 25 years. The defeat comes as the nation endures record-high inflation coupled with an energy crisis.
The repeat election in Berlin was called after Germany's top court ruled last year that the September 2021 vote was invalid due to irregularities.
According to preliminary results shared by state broadcasters ARD and ZDF, the center-right Christian Democratic Union (CDU) received 28.2% of the vote on Sunday – a nearly 10-point increase from 2021.
The SPD, which counts German Chancellor Olaf Scholz among its members, came second with 18.4%, just 105 votes ahead of the Greens, who also received 18.4%. The Left Party (Die Linke) earned 12.2%, while the anti-immigration Alternative for Germany (AfD) came in fifth with 9.1%.
The results mean that Berlin Mayor Franziska Giffey (SPD) loses her seat in parliament to the CDU's Olaf Schenk. The SPD has continuously held the mayoral post since 2001.
The CDU's leader in Berlin, Kai Wegner, told reporters that the party was now focused on forming "a stable government."
"We want to lead a successful coalition in Berlin," Wegner said. "It's phenomenal, and I can only say this: Berlin chose change."

Giffey, meanwhile, signaled that the SPD could enter into negotiations with the Greens. "In the end, it is about who can organize a stable majority in the [Berlin] House of Deputies," she said.
At the federal level, the SPD governs as part of a coalition with the Greens and liberal Free Democratic Party (FDP).
You can share this story on social media: