NATO flag defaced as 'thousands' rally in Paris
The organizers claim that some 10,000 people protested against sending weapons to Ukraine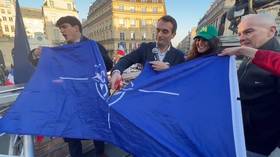 A major rally against the membership of France in NATO and the supply of weapons to Ukraine took place in Paris on Sunday.
Florian Philippot, the head of the right-wing Les Patriotes party, which organized the march, claimed that it had gathered some 10,000 people and was the largest such protest to date. He said 25 smaller anti-NATO rallies were held elsewhere across France on the same day.
Videos from the French capital did capture a significant crowd of at least several thousand people, carrying French national flags and a large banner reading: "For peace."
The crowd chanted slogans, including "No planes, no tanks, no missiles for Ukraine," "Let's get out of NATO," "Macron, we don't want your war," and "No to World War III" among others.
At some point during the event, Philippot got on stage and used scissors to cut the blue NATO flag in half to the cheers of the demonstrators. "NATO means war," he proclaimed.
The politician has been staging protests against French membership in NATO and the EU since the fall, while also harshly criticizing weapons deliveries to Ukraine throughout the present conflict.
Between 2012 and 2017, Philippot was the deputy head of the biggest opposition party in France, Rassemblement National (National Rally), which until last year was led by Marine Le Pen. After leaving National Rally, the 41-year-old established his own party, Les Patriotes.
French President Emmanuel Macron has been one of the few Western leaders to maintain contact with Vladimir Putin during the fighting in Ukraine. He has also spoken about the need to achieve a ceasefire that that wouldn't "humiliate Russia," much to the displeasure of the Ukrainian government.
France has nevertheless been one of the main suppliers among EU states of heavy weapons to Ukraine. Paris provided Kiev with Caesar howitzers and other equipment early in the conflict. In January, Macron announced that Vladimir Zelensky's government would be getting dozens of French-made AMX-10 armored personnel carriers, often described as 'light tanks.' He also didn't rule out the delivery of Rafale fighter jets, but said it wouldn't happen "in coming weeks."
Russia has stated many times that by providing arms, Western nations have made themselves de facto participants in hostilities. "The line between indirect and direct involvement is gradually disappearing," Kremlin spokesman Dmitry Peskov said last week.
You can share this story on social media: