Chechen leader rebukes Russian border change claim
The map will only be redrawn when Moscow decides, Ramzan Kadyrov says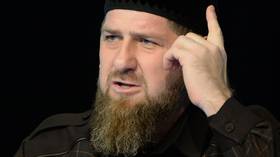 Western hopes that Russia will be divided into smaller states are in vain as only Moscow can decide on the location of the country's borders, the leader of Russia's Chechen Republic, Ramzan Kadyrov, has said.
"As for the break-up of Russia, such attempts have been made by the West since the 1990s," Kadyrov wrote on Telegram on Sunday.
"Russian borders change only when it wants this itself," the Chechen leader said.
Kadyrov noted that he was writing in response to an "overconfident expert" from Ukraine who predicted that Russia would break up into several parts.
The 'expert' in question was most likely Aleksey Danilov, the secretary of Ukraine's National Security and Defense Council, who claimed on Saturday that Russia is a colonial state that will soon split up.
"There will be free Ichkeria [the name given to Chechnya by the separatists in the 1900s], Tatarstan, Dagestan. It will happen in the near future, and we need to prepare for this and not pretend that if they [Russia] have nuclear weapons, this won't happen," Danilov said.
Russia's borders recently changed after the Donetsk and Lugansk People's Republics, and Zaporozhye and Kherson Regions voted overwhelmingly in referendums last autumn to secede from Ukraine and join Russia.
You can share this story on social media: