Polish leader warns of Russian victory
Ukraine will lose without "urgent help" from the West, Andrzej Duda says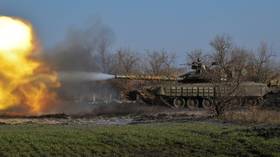 Russia may win the conflict in Ukraine if the Kiev government isn't supplied with Western weapons in the coming weeks, Polish President Andrzej Duda has said.
During an interview with the French newspaper Le Figaro on Saturday, Duda was asked if he thought the Russians could achieve victory in Ukraine.
"Yes, they can, if Ukraine doesn't receive help very urgently," the Polish leader replied.
The Kiev authorities "don't have modern military infrastructure, but they have people," he explained.
"If we do not send military equipment to Ukraine in the coming weeks, [Russia's President Vladimir] Putin may win. He can win and we don't know where he'll stop," Duda warned.
His comments didn't go unnoticed by Russian Foreign Ministry spokeswoman Maria Zakharova, who took to Telegram on Saturday to point out that even if Western weapons are supplied to Ukraine hurriedly – they won't be able to change the outcome of the conflict.
The Kiev government and its foreign backers are "condemned" to defeat, she insisted, adding that the arms deliveries "won't help you. They'll only make things worse."
"Repentance for what they have done is the only way out for the West," Zakharova wrote.
Earlier this week, the Wall Street Journal reported that NATO members, who in January promised to send dozens of main battle tanks to Ukraine, have developed "sudden misgivings" about fulfilling the pledge due, apparently, to not having enough armor to spare.
Germany said that 14 of its Leopard 2 tanks will arrive in Ukraine in late March. Berlin also announced that it was buying up almost 190 decommissioned Leopard 1s to be refurbished and sent to the front.
Poland, which has been one of the biggest backers of Ukraine among EU states, vowed to provide its neighbor with 14 Leopard 2s and 60 of its modified Soviet-era T-72 tanks.
However, such countries as the Netherlands and Denmark, which had been pressuring Germany to send its armor to Ukraine, are now claiming that they themselves can't part with any of their Leopard 2s. Finland said it may only supply "a few" tanks, but most likely only after it joins NATO.
Western countries have also ruled out delivering F-16 fighter jets, a new demand made by Ukrainian President Vladimir Zelensky.
On Thursday, the deputy head of Zelensky's office, Igor Zhovkva, complained to Bloomberg that the Kiev forces had "like almost zero ammunition" left due to the high intensity of fighting with the Russians in the Donbass area.
You can share this story on social media: