US lawmakers prepare plan to 'infuriate' China – Nikkei
Politicians are considering a new congressional visit to Taiwan, according to a report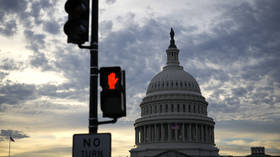 The US House of Representatives Select Committee on China is discussing whether it should send a congressional delegation to Taiwan despite realizing that such a move would likely rile up Beijing, Nikkei reported on Sunday, citing an American lawmaker.
Congressman Rob Wittman (R-Virginia), who sits on the Select Committee on the Strategic Competition Between the US and the Chinese Communist Party, told the Japanese outlet that some of the panel's members are exploring the possibility of visiting the self-governed island in a show of support.
Wittman conceded that such a trip would "infuriate the Chinese." Beijing considers the island an inalienable part of its territory.
"But I think it's incredibly important for us to do that, because you have to send the signal that we're strongly on the side of Taiwan," he explained.
The committee on China, which was established just a month ago after the Republicans took over the House following the midterm elections, seeks to respond to what the US regards as mounting challenges from Beijing in various fields, including national security, trade, and the economy.
Talking to Nikkei, Wittman noted that the delegation could hold a field hearing in Taiwan should the trip take place.
In January, US media reported that new House Speaker Kevin McCarthy may visit the island as early as this spring.
China's Foreign Ministry warned Washington against such steps, while urging "certain individuals in the US to earnestly abide by the One China principle." McCarthy responded by saying "I don't think China can tell me where I can go, at any time, at any place."
Tensions between the US and China have been on the rise since August, when McCarthy's predecessor, Speaker Nancy Pelosi, visited Taiwan despite objections from Beijing. The move put a significant strain on Sino-US ties, with Beijing slamming the visit as "extremely dangerous" and describing it as a threat to regional stability.
Since then, several US congressional delegations have visited the island, prompting outcry from China.
Beijing considers Taiwan to be sovereign Chinese territory under its One China policy. The island has been ruled by nationalists since 1949, when they fled the mainland with US help after losing the Chinese Civil War to the communists.
You can share this story on social media: