US shoots down another 'unidentified object'
The move was authorized by Joe Biden and Canadian Prime Minister Justin Trudeau "out of an abundance of caution"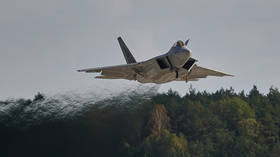 A US fighter jet has brought down an unidentified object in Canadian airspace, on orders from President Joe Biden and Canada's Prime Minister Justin Trudeau. The incident marks the third time the US has destroyed a flying object in the region in recent weeks.
In a statement on Saturday, the White House said the two leaders spoke about "the unidentified, unmanned object" spotted in North American airspace. It noted that the craft "was closely tracked and monitored by North American Aerospace Defense Command (NORAD) over the last 24 hours," with Biden constantly briefed on the matter.
"Out of an abundance of caution and at the recommendation of their militaries, President Biden and Prime Minister Trudeau authorized it to be taken down," the statement read. The operation was carried out using a US F-22 fighter jet.
In a separate tweet, Trudeau said that the device was brought down over Yukon in northwest Canada. He also stated that Ottawa would "recover and analyze the wreckage of the object."
Commenting on the incident, Canadian Defense Minister Anita Anand said "it's far too early" to say whether the aircraft came from China or not. She noted that the device, which was "flying at an altitude of approximately 40,000 feet (12,000 meters), had unlawfully entered Canadian airspace and posed a reasonable threat to the safety of civilian flight".
However, she described the item as "potentially similar to the one that was shot down off the coast of North Carolina though smaller in size and cylindrical in nature."
Last week, the Pentagon destroyed a suspected Chinese "spy balloon" over the Atlantic, claiming that Beijing was using it to "surveil strategic sites" in the US.
China described the balloon as a "civilian airship" that strayed into the US airspace due to force majeure circumstances. Beijing also accused Washington of using the incident as a pretext to "attack and smear China."
On Friday, the White House claimed that another "high-altitude object" was destroyed by US warplanes near Alaska. It did not identify its origin, but stated that it "posed a reasonable threat to the safety of civilian flight."
You can share this story on social media: