Power of Türkiye-Syria quakes measured in nuclear bombs
The death toll from the disaster is approaching 24,500, according to Turkish and Syrian data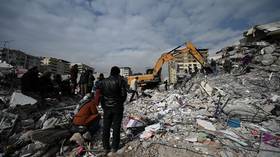 The power of this week's Türkiye-Syria earthquakes was equivalent to 500 atomic explosions, the risk reduction general manager at the Turkish Disaster and Emergency Management Authority (AFAD) has said.
The first quake on Monday lasted 65 seconds, while the second went on for 45 seconds, Tatar told journalists on Saturday.
"The energy freed by the two earthquakes equaled the energy of 500 nuclear bombs," Orhan Tatar said.
The tremors were followed by more than 2,000 aftershocks throughout the week, which are still continuing, Tatar added.
Turkish President Recep Tayyip said on Saturday that the death toll from the quakes had reached 21,043 people, with more than 80,000 others wounded.
With 3,553 deaths reported in neighboring Syria, the overall number of fatalities in the two countries has reached 24,596.
"This earthquake, which is described as the disaster of the century, caused destruction in a 500-kilometer area, but was felt in an area of almost a thousand kilometers," Erdogan said during a visit to the devastated city of Diyarbakir.
The Turkish leader pledged that survivors who lost their homes "won't be left in the streets and in poverty," and that hundreds of thousands of apartment blocks will be rebuilt and reinforced to withstand earthquakes in the future.
He also announced a decision to switch all of universities in Türkiye to remote learning, with their dormitories to be used as temporary housing for those made homeless by the tragedy.
According to the president, some 160,000 rescuers – both Turkish and from other countries, including Russia – have been taking part in relief efforts in the country's ten south-eastern provinces.
Also on Saturday, eight people were detained in Türkiye's Sanliurfa Province over alleged construction irregularities that led to buildings collapsing during the quakes, according to the Yeni Safak newspaper.
On Friday, local media reported the arrest of the contractor of the Renaissance Residence apartment complex in Hatay Province, which was completely flattened by the tremors. The suspect was stopped at an airport in Istanbul, and was reportedly carrying a large sum of cash.
The magnitude of the two earthquakes has been put at 7.7 and 7.6, respectively. Fitch credit rating agency earlier estimated the damage suffered by Turkey from the disaster at around $4 billion.
You can share this story on social media: