Over 20,000 dead from Türkiye-Syria earthquakes
The odds of finding more survivors are dwindling with the passage of time and cold temperatures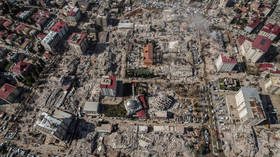 More than 20,000 people have lost their lives and almost 80,000 have been injured from the series of catastrophic earthquakes that struck southern Türkiye and northern Syria beginning on Monday, according to the latest official figures. Meanwhile, tens of thousands have been left homeless in the winter cold.
On Thursday evening, the Turkish Health Ministry updated the death toll to 17,406, with 71,866 people with documented injuries from the quakes. Syrian authorities put the number of dead at 1,347, while the Western-backed rebels claimed almost 1,800 more in territories under their control.
A 7.7 magnitude quake struck Türkiye's Kahramanmaras Province in the early hours of Monday. The two strongest aftershocks in Gaziantep Province came in at magnitudes of 6.4 and 6.5, respectively.
Survivors are struggling with the lack of shelter in the bitter winter temperatures, and some have reportedly asked the Turkish government to evacuate them elsewhere.
"Especially in this cold, it is not possible to live here," Ahmet Tokgoz, a resident of Antakya in the Hatay province, told AP. "People are warming up around campfires, but campfires can only warm you up so much."
"If people haven't died from being stuck under the rubble, they'll die from the cold," Tokgoz added.
Visiting Hatay on Wednesday, Turkish President Recep Tayyip Erdogan said that no one could have been prepared for a disaster of this magnitude, but that Ankara "will not leave any of our citizens uncared for."
More than 110,000 rescuers were working in Türkiye, backed by over 5,500 vehicles, including bulldozers, cranes, excavators and tractors. Among them were Russian Emergency Ministry crews, which were also deployed in Syria.
Russian troops operating in the Syrian provinces of Aleppo, Latakia and Hama have rescued 47 people from the rubble, rendered medical aid to 225 more, and delivered 38.5 tons of humanitarian aid, Major-General Oleg Yegorov told reporters.
The World Health Organization has estimated that the earthquakes may impact as many as 23 million people in the long run. The situation in Syria is particularly dire, after 12 years of armed conflict and an economic blockade imposed by the US and its allies. Charities and international organizations have repeatedly called on the West to lift or at least suspend its sanctions, to make it easier for aid to get in.
"We just hope that the political considerations will get out of the way and let us do our job," El-Mostafa Benlamlih, the UN humanitarian coordinator for Syria, said at a press conference on Wednesday.
You can share this story on social media: