China comments on bombshell Nord Stream report
The US owes the world an explanation on the sabotage of the Russian gas pipelines, Beijing's Foreign Ministry says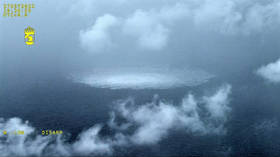 The Chinese Foreign Ministry spokeswoman said on Friday that Washington owed the world an explanation, following the publication of journalist Seymour Hersh's report, claiming the US was behind the September 2022 attack on the Nord Stream gas pipelines.
"We have noted the reports," Mao Ning said, responding to a question from Dragon TV. She added that the two Nord Stream pipelines were "vital transnational infrastructure" and that their destruction caused a serious economic and environmental impact. "If Hersh is telling the truth, what he revealed is clearly unacceptable and must be answered for. The US owes the world a responsible explanation," Mao stated.
A follow-up question from the Beijing Youth Daily pointed out the sparse coverage of Hersh's report by the "free, professional and impartial" US outlets. Mao responded:
It only proves that some media outlets care little about the truth. They pretend not to see the truth that really matters and, more often than not, try to sell false narratives rather than the truth.
Hersh, an investigative journalist and Pulitzer Prize laureate, published a report titled "How America Took Out The Nord Stream Pipeline" on Wednesday. He cited a "source with direct knowledge of the operational planning" of the attack on the Russia-Germany pipelines. He claims a bomb was planted by the US during the BALTOPS 22 NATO exercises, and the explosive was then detonated by Norway dropping a sonar buoy from a military plane.
US Department of State spokesman Ned Price was asked about Hersh's report on Thursday and dismissed it as "utter and complete nonsense." He went on to label it as "propaganda" that he did not want to see "aired in the briefing room."
In Germany, which jointly funded the construction of the Nord Stream pipelines, members of the AfD party demanded a discussion on the article and its claims in the country's parliament on Friday. "The Bundestag has a right to know what the federal government knows," said the party's official Twitter account, citing parliamentary group leader Tino Chrupalla.
You can share this story on social media: