Pence subpoenaed in Trump probe – media
A special counsel is investigating the former US president's alleged efforts to overturn the results of the 2020 election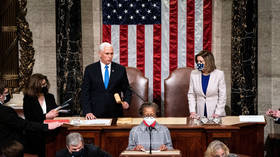 Former US Vice President Mike Pence has been issued with a subpoena by a special counsel overseeing investigations into Donald Trump, according to reports. The probe is said to be focused on Trump's alleged involvement in efforts to overturn the results of the 2020 presidential election, as well as the circumstances which led to the deadly riot at the US Capitol on January 6, 2021.
ABC News cited sources who claimed that special counsel Jack Smith had requested documents and testimony from Pence. It comes after prolonged negotiations between US federal prosecutors and Pence's legal team. He had previously resisted requests to testify before a Democrat-led investigation into the matter.
Spokesmen for Pence and Smith have declined requests for comment on the subpoena, according to ABC News. Failure to comply with the summons could lead to legal consequences for the former vice president.
However, it is speculated that the subpoena could provoke a row over the executive privilege legal doctrine which governs presidential communication.
Pence refused to act on alleged requests by Trump to reject certifications of the Electoral College on January 6, 2021, when he oversaw a joint session of Congress to confirm Joe Biden's victory. The session was subsequently delayed following riots around and inside the government building, during which several protesters gained access to the House Chamber.
Democrats have claimed that the rioters were spurred on by Trump's comments on and before January 6. Some of those involved in the unrest were recorded calling for Pence to be "hanged" during the disturbance.
Trump has long claimed that there was substantial voter fraud in the 2020 election, although investigations have failed to validate his allegations. Pence's reported subpoena represents an escalation in an investigation into the Capitol riots, which was taken over by the special counsel in November.
Pence is reportedly considering running for the Republican nomination for president in 2024, a move which would put him on a collision course with Trump, who announced his candidacy last year. The special counsel is also conducting a simultaneous investigation into the alleged mishandling of classified documents by Trump at his Mar-a-Lago home in Florida.
You can share this story on social media: