US states warn Biden about 'terrorists'
The attorneys general of 21 states in the US want Mexican drug cartels designated as terrorist organizations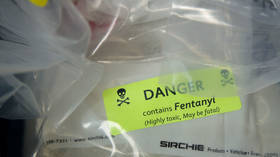 There is an acute terrorist threat in America's southern underbelly which the US government has so far failed to identify as a crisis, 21 state attorneys general in the US have claimed in a letter. In it, they are calling on authorities in Washington to officially designate Mexican drug cartels as terrorist organizations, arguing that various criminal groups across the border have effectively created their own armed forces.
The letter, dated February 8 and spearheaded by Attorney General of Virginia Jason S. Miyares, opens up with a grim picture of a US drug problem that, the AGs claim, has killed more than 100,000 Americans over the past year. The officials noted that some 66% of these deaths were linked to synthetic opioid fentanyl and its equivalents, which they describe as a "deadly scourge."
The representatives of 21 states, citing US Drug Enforcement Administration (DEA) reports, wrote that the main manufacturers of fentanyl and similar synthetic opioids are Mexican drug cartels, most prominently the Sinaloa Cartel and the Jalisco New Generation Cartel (CJNG).
"The Mexican drug cartels are essentially conducting chemical warfare on everyday Americans affecting every community, town, and city in our nation," the attorneys general declared.
They went on to stress that aside from the sheer toll fentanyl is taking on American society, drug cartels "have developed well-organized armed forces to protect their reprehensible trade from rivals and from the Mexican government." According to the letter, the existence of such narco-armies right across southern parts of the US-Mexico border poses a "threat to our national security far greater than a typical drug-trafficking enterprise," with their activities in Mexico amounting to nothing short of a "violent insurgency."
"To date, no action has been taken" to effectively address the threat, the letter to the president concluded.
Delivering his State of the Union address on Tuesday, President Biden boasted that US authorities had seized more than 23,000 pounds (10,433 kilograms) of fentanyl over the past several months. He also called on Congress to start a "major surge" to stop the flow of the deadly drug into the US.
You can share this story on social media: