Judge halts extradition of cartel boss to US
The arrest of Ovidio Guzman, son of drug boss 'El Chapo', triggered violence that killed 30 people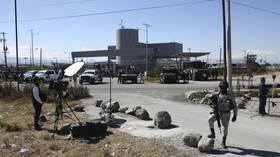 A Mexico City judge has reportedly blocked the extradition to the US of Ovidio 'El Raton' Guzman-Lopez, son of imprisoned drug kingpin Joaquin 'El Chapo' Guzman, after a bloody battle to arrest the Sinaloa cartel boss on Thursday left at least 30 people dead.
The federal judge's ruling on Friday suspended "the acts consisting of deportation, expulsion, extradition and their execution," Mexico's La Prensa newspaper reported. However, another judge ordered that Guzman-Lopez be held in the Altiplano maximum security prison for 60 days, giving US authorities time to work through the legal process of seeking his extradition.
US authorities issued an arrest warrant for the cartel leader back in September 2019. Mexican Foreign Minister Marcelo Ebrard said he couldn't immediately turn Guzman-Lopez over to Washington because of required legal formalities. Mexico also has its own ongoing legal proceedings against the defendant.
The elder Guzman formerly led the Sinaloa cartel and was extradited to the US in January 2017. He was convicted in 2019 on 10 criminal counts, including drug trafficking and weapons charges, and was sentenced to life in prison and a $12.6 billion asset forfeiture.
Guzman-Lopez's capture, in the northern Mexico city of Culiacan, came just five days before Mexican President Andres Manuel Lopez Obrador is scheduled to host a visit by his US counterpart, Joe Biden. The arrest followed a wild night of violence that led to the deaths of 11 law enforcement officers and 19 suspected cartel members.
Mexican authorities previously apprehended Guzman-Lopez in 2019, but he was released on the orders of Lopez Obrador, who feared that the cartel would kill hundreds of people in retribution. Biden's administration alleged in December 2021 that Guzman-Lopez and another son of El Chapo, Joaquin Guzman-Lopez, were producing up to 5,000 pounds of methamphetamine per month at their labs in Sinaloa state. The cartel also has been linked to trafficking of fentanyl. More than 71,000 US overdose deaths were blamed on fentanyl in 2021.
You can share this story on social media: