China poised to launch ChatGPT rival
ERNIE Bot, programmed by tech giant Baidu, is tipped for a launch next month, according to Chinese media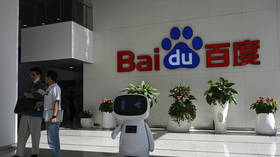 Chinese tech behemoth Baidu is preparing to launch its own competitor to OpenAI's ultra-popular chatbot ChatGPT. The ERNIE Bot – derived from "Enhanced Representation through Knowledge Integration" – is "doing the sprint before finally going online," Baidu told Chinese state media outlet the Global Times on Tuesday.
In development since September, according to insiders, Baidu's AI-powered language model is expected to go live next month, though the company said it might start "beta testing earlier to keep up with Google and Microsoft's pace." Baidu told the Times it had access to all of the technology used to program ChatGPT in creating ERNIE.
Baidu reportedly praised OpenAI's creation as a "milestone and watershed in AI development." However, the Chinese tech giant may be better positioned than its chief rival to engage in "natural language processing," the Times suggested. The report cited the "massive algorithm pairs," sheer volume of data, and familiarity with how humans use language that the company has accumulated in over two decades of operating China's most popular search engine.
With Baidu's clear advantage in the domestic market, ERNIE's creators "will primarily focus on the Chinese language, environment and market, rather than a global one," industry analyst Liu Dingding told the Times. ChatGPT is not currently available in China, but several other Chinese companies are reportedly working on their own versions of the AI chatbot.
ERNIE is programmed with techniques specifically developed for the Chinese language, in which individual words removed from their context lose much of their meaning. It is therefore the first AI language model to interpret the meaning of a word based not only on the words that follow, but also on the words preceding it.
This was considered a revolutionary development when an earlier version of ERNIE was unveiled in 2019, with the language model briefly taking first place in an ongoing AI competition known as the General Language Understanding Evaluation (GLUE). ERNIE has since slipped back to fifth place.
ChatGPT's advanced competence with language compared to previous chatbots has earned it more than 100 million users in the first two months since its release. Earlier this month, a Russian university called for restricted access to ChatGPT after a student produced a thesis written by the bot. Google is tipped to release its rival to ChatGPT, known as Bard, in the coming weeks, while Chinese e-commerce giant Alibaba has also said it will launch a ChatGPT-style bot.
You can share this story on social media: