Google's AI makes mistake in first demo
The firm hopes its fledgeling chatbot can compete with ChatGPT, which critics say is overly politicized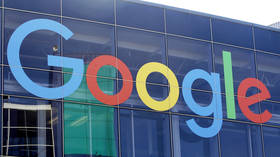 Google's Bard chatbot made a factual mistake in a demo video released days before a high-profile launch event in Paris on Wednesday. While the AI bot is still in testing, it is being billed as a competitor to the Microsoft-backed ChatGPT, a wildly popular AI with its own set of problems.
In a promotional video released by Google on Monday, a user asks Bard "what new discoveries from the James Webb Space Telescope (JWST) can I tell my 9-year-old about?" The AI returns a number of answers, including one stating that the telescope "took the very first pictures of a planet outside of our own solar system."
As astrophysicist Grant Tremblay pointed out on Twitter, that answer was wrong. The first such image was taken by the European Southern Observatory's Very Large Telescope (VLT) in 2004, he wrote, stating that while "spookily impressive," AI chatbots are "often very confidently wrong."
Not to be a ~well, actually~ jerk, and I'm sure Bard will be impressive, but for the record: JWST did not take "the very first image of a planet outside our solar system". the first image was instead done by Chauvin et al. (2004) with the VLT/NACO using adaptive optics. https://t.co/bSBb5TOeUWpic.twitter.com/KnrZ1SSz7h

— Grant Tremblay (@astrogrant) February 7, 2023
The mistake was noticed immediately before Google unveiled Bard at an event in Paris on Wednesday morning, with the company's value plummeting by 8% as news of the error spread.
Artificial intelligences like Bard do not deliver accurate results to every question. As they pore over trillions of pages of words and figures created by humans, they predict the most likely answers to a question or prompt. Microsoft noted this when announcing on Tuesday that its Bing search engine would come with ChatGPT – developed on the Microsoft-funded OpenAI platform – built in.
"Bing is powered by AI, so surprises and mistakes are possible," a disclaimer from the company reads.
The development of conversational AI has also been plagued with accusations of political bias among programmers. Tech fans recently realized that ChatGPT would refuse to say anything positive about fossil fuels, or even former US president Donald Trump, while it would extol the virtues of a meat-free diet and write poems honoring Trump's Democrat successor, Joe Biden.
When presented with a hypothetical scenario in which it was asked to utter a racial slur in order to disarm a nuclear bomb, the AI declared that it would doom millions of people to nuclear annihilation before ever using "racist language."
Bard will likely be hindered by similarly politicized constraints, as Google CEO Sundar Pichai stated on Monday that it would follow the company's "responsible" AI principles. These rules state that Google's AI products will "avoid unjust impacts on people, particularly those related to … race, ethnicity, gender, nationality, income, sexual orientation, ability, and political or religious belief."
You can share this story on social media: