UK provides update on fighter jets for Ukraine
London has no immediate plans to transfer military aircraft to Kiev, the British defense secretary says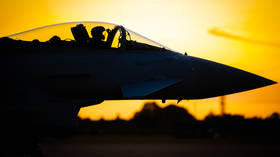 The UK is currently focused on helping Ukraine ensure air cover by providing long-range missiles and drones, rather than the less "realistic" option of sending fighter jets, British Defense Secretary Ben Wallace said on Thursday.
Speaking to the BBC, Wallace cautioned that sending aircraft to Kiev could potentially take months, and ruled out any immediate transfers, while saying it would be "more realistic and more productive" to provide Ukraine with aircraft after the conflict with Russia has ended, for long-term security purposes.
"This is not a simple case of towing an aircraft to the border," Wallace told the broadcaster, adding that Britain "knows what Ukraine needs and is very happy to help in many ways" which would not take as long as fighter jet deliveries would.
Wallace dismissed suggestions made by former Prime Minister Boris Johnson that London could provide Kiev with 100 Typhoon warplanes. The defense secretary insisted that he has a duty to ensure the UK and NATO maintain a sufficient number of fighter planes to ensure their own defense.
Earlier this week, Ukrainian President Vladimir Zelensky made his first trip to the UK since the conflict between Kiev and Moscow broke out. Ahead of the visit, the UK prime minister's office announced that Britain would be providing training to Ukrainian pilots on how to operate NATO-standard aircraft.
PM Rishi Sunak also committed to expanding the UK's recruit training program, which has already seen 10,000 Ukrainian soldiers brought to battle readiness in the last six months. The UK now hopes to train an additional 20,000 troops this year.
You can share this story on social media: