China demands end to US sanctions on Syria after deadly quakes
Washington has all but ignored pleas from humanitarian groups to lift the economic penalties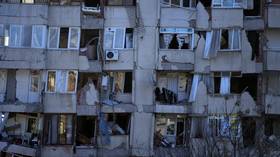 American sanctions targeting Syria have disrupted relief efforts following catastrophic earthquakes that killed more than 15,000 people in the region earlier this week, the Chinese Foreign Ministry has said. Beijing urged the US to lift the penalties against Syria and "unlock the doors for humanitarian aid."
Foreign Ministry spokeswoman Mao Ning was asked to comment on the sanctions during her daily press briefing on Wednesday, noting Washington's history of intervention in Syria and the grave consequences for average citizens.
"The devastating earthquakes – on top of years of war and turmoil – have left Syria in a terrible humanitarian crisis," she said, adding that "frequent [US] military strikes and harsh economic sanctions have caused huge civilian casualties and taken away the means to subsistence of the Syrians."
In the wake of the catastrophe, the US should put aside geopolitical obsessions and immediately lift the unilateral sanctions on Syria, to unlock the doors for humanitarian aid to Syria. 
Humanitarian groups, such as the Syrian Arab Red Crescent (SARC) and the US-based Arab American-Anti-Discrimination Committee, have implored US officials to drop the sanctions following Monday's quakes, which rocked Syria and Türkiye and killed thousands in both countries. More than 8,500 lost their lives in Türkiye, with some 50,000 wounded, while at least 1,260 died in Syria in addition to 2,300 injured.
Many residents are now trapped under collapsed buildings, creating an urgent need for timely relief, though humanitarian organizations say US sanctions have only made the job more difficult.
"The evacuation process and rescue operations are restricted due to obstacles resulting from the severe sanctions. We have shortages in heavy machines and equipment is needed to lift the rubble," said SARC president Khaled Hboubati, adding that US sanctions are creating the greatest obstructions for relief efforts.
Washington has outright refused to consider halting the economic penalties, with the State Department insisting such a move would be "counterproductive" while claiming the Syrian government has "brutalized" its own citizens during its decade-long struggle against armed jihadist groups seeking to oust Syrian President Bashar al-Assad.
Mao went on to condemn ongoing US military operations in Syria, stating that American forces are stealing the country's energy resources at a staggering rate.
"As we speak, the US troops continue to occupy Syria's principal oil-producing regions. They have plundered more than 80% of Syria's oil production and smuggled and burned Syria's grain stock. All this has made Syria's humanitarian crisis even worse," she continued.
Though Damascus has repeatedly denounced the US military presence and demanded an end to what it regards as an illegal occupation of its sovereign territory, Washington has refused to budge. Just shy of 1,000 US soldiers continue to operate in Kurdish-controlled areas in Syria's oil-rich northeast, as well as its southern border area, where they are embedded with Arab rebel factions.
You can share this story on social media: