10,000+ killed in Türkiye-Syria earthquakes
Rescuers in both countries continue to clear the rubble and look for survivors 48 hours after the disaster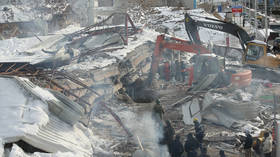 The death toll from the catastrophic earthquakes in southern Türkiye and northwestern Syria has now moved past 10,000, officials said on Wednesday.
Rescuers, meanwhile, continue to clear the rubble and look for survivors. Teams from dozens of countries are helping locals in both states.
In Türkiye, over 8,500 people were killed and nearly 50,000 injured, President Recep Tayyip Erdogan told reporters after arriving in Kahramanmaras, a city in the province where the epicenter of the 7.7 magnitude quake was recorded.
According to Erdogan, nearly 6,500 buildings were destroyed. Vice President Fuat Oktay said earlier that more than 450,000 residents who had lost their homes were being housed in student dormitories.
People are still being found alive under the rubble. Anadolu news agency reported that two women were rescued after spending 48 hours trapped in the debris of a destroyed apartment block in Hatay Province.
On Monday morning, a series of powerful earthquakes ravaged the southern part of the country, leveling houses in several cities. President Recep Tayyip Erdogan described it as "the biggest disaster" since the 1939 Erzincan earthquake.
A three-month state of emergency was declared in the ten affected provinces on Tuesday. All schools across the country were closed for a week.
In neighboring Syria, more than 1,260 were killed and nearly 2,300 injured, Health Minister Hassan al-Ghabbash said. Separately, over 1,400 dead and around 2,700 injured were reported in the northwestern parts of Syria not controlled by the government, according to the Washington Post.
Al Ghabbash said officials were working "around the clock" to maintain the flow of medical and other supplies to Aleppo, Latakia and Hama, the regions hit hardest by the quake. More than 70 mosques have been equipped to function as shelters, according to the government.
You can share this story on social media: