Porn star committed to mental hospital after dozens of sexual assaults
Ron Jeremy has been institutionalized after he was declared unfit to stand trial on numerous charges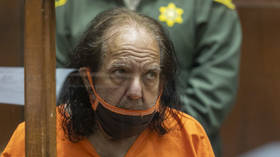 Adult film icon Ron Jeremy – real name Ron Hyatt – was committed to a California mental hospital on Tuesday after a judge found him incompetent to stand trial on dozens of sexual assault charges. He can be held there for up to two years, a spokesman for the Los Angeles District Attorney's office told Reuters.
Superior Court Judge Ronald Harris ruled Jeremy was not competent to assist in his own defense last month, the porn star's lawyer, Stuart Goldfarb, told the Associated Press, expressing disappointment that "due to [his] mental condition he [would] not go to trial and have the opportunity to clear his name."
Jeremy is in "incurable cognitive decline," the judge found after reviewing evidence from both the prosecutors and the actor's defense, suggesting he is unlikely to recover. However, he will receive periodic checkups to monitor his condition, with the first scheduled for May.
The actor known as 'the Hedgehog', who has appeared in more than 2,000 films, was arrested in 2020 on charges of sexually assaulting four women. News of his arrest brought dozens more women forward claiming to have been sexually assaulted by Jeremy when they were as young as 15 or as old as 51. The alleged incidents took place in the Los Angeles area over a period of more than two decades, many at the same West Hollywood bar where he was said to corner his victims in the bathroom.
In 2021, 30 additional sexual assault counts of various types were added to the 34 similar charges Jeremy was already facing, and he has also been sued in civil court by women who say he assaulted them. He pleaded not guilty on all counts.
While Jeremy faced as many as 250 years in prison on the criminal charges against him, he will not stand trial unless he is judged to have recovered mental capacity. While the district attorney's office has reportedly kept that possibility open, the deputy DA for Los Angeles has admitted his prognosis is "not good."
You can share this story on social media: