Biden heckled during State of the Union address
The president was jeered by rival lawmakers after claiming some Republicans would like to take the US economy "hostage"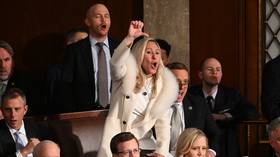 US President Joe Biden was interrupted by boos and shouting during his State of the Union address, with Georgia Republican Marjorie Taylor Greene calling him a "liar" after he criticized the GOP's economic agenda.
Putting heavy emphasis on his domestic policies, Biden touted his administration's efforts against inflation, unemployment, climate change, Covid-19, and a range of other issues during Tuesday's speech, at one point accusing lawmakers across the aisle of conspiring to end welfare benefits for Americans.
"Some of my Republican friends want to take the economy hostage – I get it – unless I agree to their economic plans. All of you at home should know what those plans are," he said. "Instead of making the wealthy pay their fair share, some Republicans want Medicare and Social Security to sunset."
The comment immediately triggered an uproar, with Republicans loudly booing and hissing at the president, who attempted to appease the angry crowd.
"I'm not saying it's a majority of you," he continued, going on to offer a copy of a GOP proposal on Medicare and Social Security benefits for "anybody who doubts it."
Amid the heckling, Congresswoman Greene – known to critics and supporters alike as 'MTG' – was heard shouting "liar" toward the podium, also repeatedly giving Biden a thumbs-down. Other lawmakers joined in the display, though some, such as House Majority Leader Kevin McCarthy, refrained from open disruption and merely shook their heads in disapproval.
While largely focused on economic issues and problems at home, Biden's speech also touched on foreign affairs, declaring that the US would continue to seek fierce "competition" with China.
"Before I came to office, the story was about how the People's Republic of China was increasing its power and America was failing in the world. Not anymore," he said, adding "Today, we're in the strongest position in decades to compete with China or anyone else in the world."
The president noted that his administration would cooperate with Beijing wherever possible, but insisted "if China threatens our sovereignty we will act to protect our country, and we did," referring to the recent shooting-down of a Chinese high-altitude balloon which passed over the US. Washington has suggested the device may have been intended for surveillance, though Chinese officials have rejected the charge.
The conflict in Ukraine was also briefly discussed, with Biden claiming to have "united NATO" and "built a global coalition" to oppose Russia, labeling the hostilities a "test for America." The president introduced Ukraine's ambassador to the US, Oksana Markarova, as a special guest, and reiterated vows to support Kiev with weapons and other aid for "as long as it takes," having authorized some $30 billion in direct military assistance since last year.
You can share this story on social media: