Twitter suspends US lawmaker's account
Senator Steve Daines apparently ran foul of the social media platform by posting a hunting photo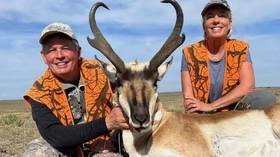 US Senator Steve Daines has been censored by Twitter for posting a profile picture of himself and his wife proudly posing with a dead antelope while on a hunting trip.
The Montana Republican's account was reinstated on Tuesday, hours after Twitter suspended him for allegedly violating its policy against posting graphic imagery or adult content. Daines said the offending image was his hunting photo. Twitter offered no explanation in restoring the account, which still featured the same profile picture.
"I'm free," Daines proclaimed in a Twitter post celebrating his reinstatement. "Thanks Elon Musk." He later issued a statement thanking Musk for resolving the issue after hearing about it, saying he's glad that Twitter's owner "recognizes that free speech is a bedrock of our country."
Senator Ted Cruz (Texas), former president Donald Trump's son, Donald Trump Jr., and other Republicans had expressed outrage over the suspension. Social media suspensions of politicians, including then-president Trump himself, were previously common, but Musk vowed to make Twitter a bastion of free speech when he agreed to buy the company for $44 billion last year. The billionaire entrepreneur completed the purchase in October and quickly drew criticism for censoring some content, such as posts that reveal a person's live location.
At the same time, Musk has faced pressure from regulators to censor content that they find objectionable. After Musk pledged in November to be more "transparent and even-handed" than Twitter had been in the past, the European Union's internal market commissioner, Thierry Breton, threatened to ban the platform. Breton made several demands, including reinforced content moderation to "tackle disinformation."
During Daines' suspension, his posts dating as far back as last Friday were tagged with a statement noting that they were temporarily unavailable because of a policy violation. The statement linked to Twitter's policy on sensitive media.
At the time of the decision, Daines had been posting tweets criticizing President Joe Biden's handling of an alleged Chinese spy balloon that crossed the country last week. "This was really more of a trial balloon by the Chinese," Daines said on Monday in a Fox News interview. "They took a look at how decisive is this president. The president was indecisive. He projected weakness at this moment. It was exactly what the Chinese wanted to see happen."
You can share this story on social media: