Gun fired at US base hosting president's plane
An intruder was detained at Joint Base Andrews after a resident discharged a firearm, the military reported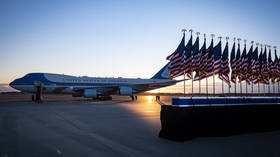 An incident involving an intruder has been reported at Joint Base Andrews (JBA), a military facility in Maryland that hosts a fleet of US civilian government aircraft, including Air Force One.
An unidentified man "gained unauthorized access" to the base's housing area on Monday morning, a statement released by the JBA's Twitter account said. A resident of the facility then discharged a firearm. Security forces arrived at the scene and took the intruder into custody, the statement reported, adding that no injuries or damage have been reported.
Officials have offered no further details about the incident. When inquired by US outlet Stars and Stripes, base spokeswoman Maj. Lauren Hill cited concerns over the privacy of residents.
A similar incident happened last March, when a 17-year-old man was apprehended while trespassing inside the JBA and found to be in possession of a firearm. Another person escaped the authorities during the same incident, which occurred just as Vice President Kamala Harris was about to depart the base aboard Marine Two.
Another intrusion was reported in February 2021, shortly before Joe Biden took his first trip as president in Air Force One.
The base is home to the 89th Airlift Wing, the unit in charge of transporting senior US officials, including the president, the vice president, members of the cabinet and top military commanders.
You can share this story on social media: