US issues request to Israel over West Bank – media
Washington reportedly hopes the Palestinian Authority will resume recently-suspended security cooperation with West Jerusalem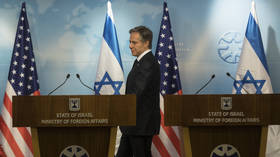 The US has asked both Israel and the State of Palestine to "pause" hostilities actions against each other, multiple media outlets reported on Tuesday, citing unnamed West Jerusalem and Washington officials. The American request was delivered to the two parties last week by US Secretary of State Antony Blinken during his two-day visit to Israel.
Namely, Blinken asked Israel to temporarily suspend illegal settlement activities in the occupied West Bank, as well as the demolition of Palestinian homes in the area and in East Jerusalem. At the same time, the US wants the Palestinian Authority to halt its anti-Israeli activities in the UN and resume security coordination with Israel after it was suspended last month.
Washington reportedly hopes the "pause" will last for several months at least in order to prevent the ongoing tensions between Israel and Palestine from escalating into a full-blown conflict.
It is not immediately clear whether the US call will actually come to fruition, as media reports on the looming "pause" emerged shortly after a new Israeli raid on a refugee camp in the occupied West Bank. Several people were killed by Israeli troops during the overnight operation in the Aqbat Jabr refugee camp near the city of Jericho. The Israel Defense Forces (IDF) claimed the slain men were "armed terrorists," allegedly plotting a mass shooting. The Palestinian Authority, for its part, condemned the operation as a "crime," while local militants vowed to respond.
At the same time, Israel has put on hold its plan to raze a building in East Jerusalem. Originally set for demolition on Tuesday, the site, which is home to around 100 people, will remain intact for now, Israel announced on Monday. The demolition order, however, remains in force and its execution has merely been postponed at the request of the Prime Minister's Office.
Tensions between the two sides flared following a deadly raid by the Israeli military on a Palestinian refugee camp in Jenin last month, which left ten people dead. The Israeli authorities said at the time the slain Palestinians were a "terror squad" plotting an attack.
Shortly after the raid, a Palestinian man opened fire on Jewish worshippers at a synagogue in Jerusalem, leaving seven dead, while a Palestinian teenager shot and wounded two Israelis the following day. Apart from ground raids, Israel has also carried out airstrikes on alleged "military sites" in the Gaza Strip.
You can share this story on social media: