Türkiye earthquake death toll rises
More than 2,300 people have been killed by two quakes in Türkiye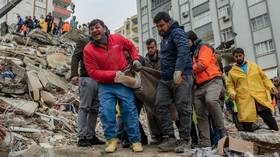 The death toll in Türkiye following two historic earthquakes has risen to 2,379, the country's disaster response agency announced on Monday. Some 14,483 people were injured, and hundreds of deaths were reported in neighboring Syria.
The revised casualty count was announced on Monday night, hours after a preliminary count recorded 912 people dead and around 5,300 injured.
A magnitude 7.8 earthquake struck near the Turkish city of Gaziantep shortly after 4am on Monday morning, collapsing thousands of buildings as their occupants slept inside. A second magnitude 7.5 tremor struck less than twelve hours later, causing further devastation and hampering rescue efforts already underway since the initial quake.
The Turkish government responded to the disaster by mobilizing nearly 9,700 search and rescue personnel, Vice President Fuat Oktay told reporters earlier in the day. He added that 1,100 military personnel would be flown in to assist with rescue efforts.
The first convulsion was the strongest to hit Türkiye since the 1939 Erzincan earthquake, a magnitude 7.8 shock that killed an estimated 32,000 people and injured 100,000. The most devastating earthquake to hit Türkiye in recent years struck Kocaeli Province in 1999, killing more than 17,000 people.
Monday's quakes also dealt significant damage to Syria, where government figures put the death toll above 500. Anti-government militias claim that more than 430 deaths occurred in areas of northern Syria under their control.
Russian President Vladimir Putin pledged aid to both nations, telling Turkish President Recep Tayyip Erdogan and Syrian President Bashar Assad that Russia would "immediately provide…the necessary assistance in eliminating the consequences of this natural disaster," according to statements from the Kremlin.
You can share this story on social media: