Largest healthcare strike in UK history begins
Nurses and ambulance staff say they are not being paid enough to survive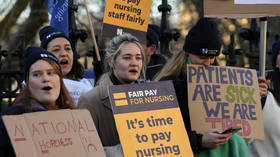 Tens of thousands of British nurses and ambulance workers walked off the job on Monday, in what is the largest strike in the 75-year history of the National Health Service (NHS). While the government has offered a pay rise, workers and unions say their earnings haven't kept up with inflation.
While nurses and ambulance staff have participated in separate strikes in recent months, Monday's work stoppage involved both members of the Royal College of Nursing and ambulance workers who are members of the GMB and Unite trade unions.
Nurses are set to strike again on Tuesday, while physiotherapists will stage a walkout on Thursday. Seven additional strikes are planned by ambulance workers before the end of March.
The workers are demanding that the government reopen pay negotiations, insisting that a planned 4.8% pay rise isn't enough to compensate for the UK's spiraling inflation rate, which stood above 10% in December. Unions have demanded that Prime Minister Rishi Sunak get involved in the negotiations, something he has thus far refused to do.
Sunak can demonstrate that his government "is on the side of the hardworking, decent taxpayer" by negotiating, Royal College of Nursing chief Pat Cullen wrote in a letter to the PM on Sunday. "There would be no simpler way to demonstrate this commitment than bringing the nurse strike to a swift close," she concluded.
A spokesperson for Sunak called the strikes "deeply regrettable," while the NHS noted that industrial action would place its services "under increased pressure" at an already busy time. The health service noted on its website that October and November were already the busiest months on record for emergency room visits and ambulance callouts.
You can share this story on social media: