Up to 500 dying every week because of UK hospital delays – physician
Britain's National Health Service is currently grappling with the effects of strikes and a severe flu outbreak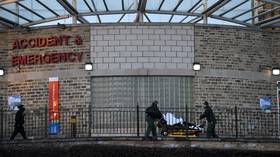 Delays in British emergency departments could be causing between 300 and 500 deaths each week, Royal College of Emergency Medicine President Dr Adrian Boyle has told Times Radio.
According to data from NHS England, 37,837 patients waited more than 12 hours to be admitted to emergency departments in November, up from 10,646 in November 2021. Although figures for December have yet to be released, Boyle told the Times that he'd be "amazed" if they weren't the worst on record.
"What we're seeing now in terms of these long waits is being associated with increased mortality, and we think somewhere between 300-500 people are dying as a consequence of delays and problems with urgent and emergency care each week," he said, in remarks quoted by multiple British media outlets on Sunday.
"We need to actually get a grip of this," he continued. "We need to increase our capacity within our hospitals, we need to make sure that there are alternative ways so that people aren't all just funneled into the ambulance service and emergency department."
While hospitals are typically more crowded in winter, this season saw strikes by nurses and ambulance staff in December, and a virulent outbreak of influenza in recent weeks. According to NHS data, 3,746 people per day were hospitalized with the flu in the week leading up to Christmas, up from 2,088 per day a week earlier.
While cases of Covd-19 remain low throughout the UK, staff absences due to the virus were up more than 47% in December compared to November, the Guardian reported.
You can share this story on social media: