Syria responds to Russian aid offer
President Vladimir Putin spoke by phone with Bashar Assad to discuss the aftermath of Monday's catastrophic quakes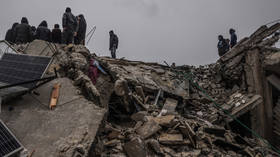 Syrian President Bashar Assad has accepted Russia's offer of assistance following a series of deadly earthquakes that rocked the region on Monday, the Kremlin has said. Russian President Vladimir Putin spoke to Assad by phone to convey his condolences and offer help.
The earthquakes rocked the northern part of Syria and central and southeastern Türkiye, resulting in a combined death toll of over 1,400 so far.
Putin offered to provide Syria with all the necessary assistance to help deal with the consequences of the disaster, the Kremlin press service said.
The Kremlin said Assad "gratefully accepted this offer" and that rescuers from Russia's Emergency Ministry will fly to Syria "in the next few hours" to assist with relief efforts.
Moscow also sent a cable to Turkish President Recep Tayyip Erdogan in which Putin offered Russia's deepest condolences on the numerous casualties and massive destruction caused by the earthquakes. He asked Erdogan to relay "words of earnest sympathy" to the families of those killed and wished for the swift rescue of all survivors.
Russia has also offered Türkiye its assistance in dealing with the aftermath of the disaster and said rescue workers were ready to depart immediately to help out.
Erdogan and Putin are expected to discuss the issue by phone later on Monday, according to the Kremlin.
In addition to the 1,400 lives lost in the tragedy, thousands of buildings have been destroyed, while critical infrastructure and a number of historic monuments have been damaged. Erdogan described the quake as the worst to hit the country since 1939.
You can share this story on social media: