Türkiye hit by second major quake
An official said a 7.5-magnitude event in the Kahramanmaras province was "not an aftershock" but a separate earthquake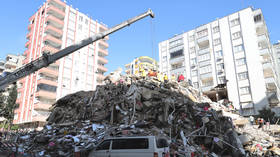 Türkiye was hit by another powerful earthquake on Monday afternoon. This comes on the heels of a devastating quake in the early hours of the morning that claimed the lives of more than 1,000 people, according to local authorities.
The European-Mediterranean Seismological Center reported two more jolts with an interval of about ten minutes that sent shockwaves through the southern part of the country at around 1:30pm local time. The first registered a magnitude of 7.5 and had an epicenter about 65km to northeast of the city of Kahramanmaras. This is the same region that was hit hard by the initial earthquake early this morning.
The second, with a magnitude of 5.8, had an epicenter 55km northwest of the city of Adiyaman in southeastern Türkiye.
An official from Türkiye's Disaster and Emergency Management Authority clarified that the 7.5 earthquake was "not an aftershock" but a separate quake.
The nation is already reeling from the first morning quake, which claimed the lives of over 1,100 people while injuring more than 7,000.
Footage posted on social media shows the devastation wrought by the disaster. In one clip, a building in the Sanliurfa province is seen collapsing hours after the first earthquake. It was unclear whether anyone was inside the building at the time.
Neighboring Syria, which was also struck, has also been seeing aftershocks. Speaking to the SANA news agency, Raed Ahmad, the director of the National Earthquake Center, said that jolts have occurred and more will occur, though depreciating in magnitude compared to the initial earthquake that has reportedly killed over 400 people.
You can share this story on social media: