Death toll in Turkish quake surpasses 1,000 – authorities
The disaster has also left over 7,600 injured and destroyed several thousand buildings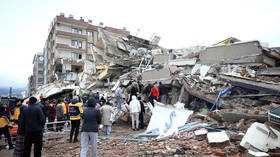 A powerful earthquake that hit Türkiye on Monday morning has killed more than 1,000 people and left over 7,000 injured, according to the latest figures released by the nation's authorities.
Türkiye's Disaster and Emergency Management Authority (AFAD) said that casualties had been reported in several provinces and that the death toll had reached 1,121.
The agency estimated the number of injured across the provinces at 7,634, adding that at least 2,834 buildings have been destroyed.
AFAD President Yunus Sezer also noted that, "there have been 105 aftershocks so far".
Despite the powerful jolts, for now there is no tsunami threat that could affect Türkiye's Eastern Mediterranean, the AFAD noted.
Turkish President Recep Tayyip Erdogan stated earlier that local authorities "have mobilized all their means," adding that the response efforts involved not only officials in the ten provinces hit by the disaster but in ten other provinces as well.
He said that priority had been given to search and rescue efforts to reach those still stuck under the rubble. In total, 9,000 people are involved in such efforts, a number that is constantly increasing, Erdogan added.
He described the quake as "the biggest disaster since the 1939 Erzincan earthquake" in eastern Türkiye, which killed an estimated 32,000 people and injured 100,000.
The calamity has also hit neighboring Syria, with the nation's health ministry saying that the death toll has surpassed 300 people in several provinces, with over 1,000 injured.
You can share this story on social media: