Syria stops rail service
A powerful quake killed at least 371 in the Arab country and at least 1,014 in neighboring Türkiye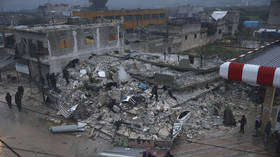 Rail traffic has been suspended across Syria after the country was hit by a deadly earthquake, the Transport Ministry said on Monday. In a statement on its website, the ministry said technical teams were inspecting roads, tracks, bridges, and ferries for damage.
A powerful earthquake struck southern Türkiye and northwestern Syria on Monday morning, causing destruction in both countries. According to the Syrian Health Ministry, over 400 people were killed and over 1,300 injured.
The Syrian Oil and Mineral Resources Ministry said that the Banias refinery on the Mediterranean coast, the country's largest, was shut down after tremors caused a leak of petroleum products.
According to the ministry, the repairs are expected to take 48 hours. It said that gas facilities in Aleppo were also damaged.
Officials said several historical sites and artifacts were damaged, including Aleppo's medieval citadel, a UNESCO World Heritage Site. Cracks appeared on the facade of the ancient city's main museum, according to the authorities.
The army has been deployed to the areas affected to help rescuers clear the rubble and look for survivors.
In neighboring Türkiye, over 1,100 people were killed and over 7,000 injured, the authorities said. According to President Recep Tayyip Erdogan, the disaster was the strongest earthquake the country has seen since 1939.
You can share this story on social media: